"We may be pureblood but muggles are just as pure" Sky Wood to Draco Malfoy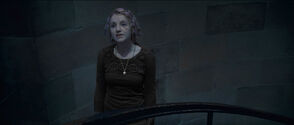 Biographical Information
Born: June 7, 1979
Blood Status: Pureblood
Status: Alive
Maritial Status: Married
Also known as: Wood, Ris, Sk (by friends), Dirty pureblood (by Draco Malfoy)
Pet: Shiro (Cat)
Physical Information
Spe cies: Human
Gender: Female
Height: 5'5
Hair: Blonde with purple
Eye color: Blue
Skin color: Pale
Relationships
Unnamed parents (👼)
Oliver Wood (brother)
Ian Smith (Husband)
Albert Andrew Smith (Son)
Aj Laura Smith (Daughter)
Clariese Ann Smith (Daughter)
Magical Information
Boggart: The death eater responsible for her parent's death
Wand: Unknown
Patronus: Tiger
House
Gryffindor 
Loyalty
Wood Family
Smith Family
Granger Family
Weasley Family
Potter Family
Dumbeldore's Army
Order Of The Phoenix
Hogwarts School Of Witch Craft And Wizardry
Gryffindor House
Biography
Sky Iris Wood is the sister of Oliver Wood, she is in Gryffindor house her brother is very protective of her and she cares deeply about  her brother and about ther friends. Her best friends are Willa Granger, Iris Lasrange and Ian Smith and all of Gryffindor House. Her favorite colors are Green and pink. She wears a necklace of a silver flower with a opal in the center that belonged to her deceased mother even though she is a pureblood she hangs out with muggles and is interested in plants her favorite classes are Herbology and Divination and Defense Against Arts.
Fourth Year
"Are you sure we're not sisters?" Sky jokingly to Fleur Delacour
Sky went to the Quidditch World Cup with her brother when she got there she met her best friend Ian Smith for the first time.
Olvier agreed to take her as long as she would dress up, when arriving she put on a scarf and had a clover painted on her face when she sees her brother with a hat, and paint all over his face. Because he forced her to go she made him wear a bow tie on his shirt.